Okay, everyone, what time is it? It's……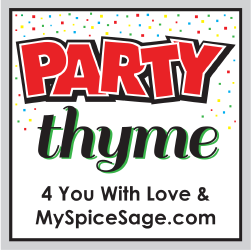 And every party needs 3 things:
First things first……FOOD!
I've been having a blast here this month firing up my grill and cooking with June's featured spices.
So, here's some of the food I've brought to the party.
Grilled Focaccia, Grilled Bananas, Grilled Pizza, Grilled Banana Split Short Cake, Cedar Plank Grilled Salmon, Black Peppered Scallops, Grilled Bok Choy, Grilled Pineapple, Blackened Swordfish….
Now this party is "Pot Luck" so at the bottom of the post there is a link up for you to inspire me (and everyone else) with your grilling adventures along with recipes that use 1 of June's featured spices: black peppercorns, thyme, aleppo pepper, and applewood smoked sea salt.
Next, we have……FUN and GAMES!
We're going to have some fun with a rafflecopter giveaway for a set of July's four featured spices.
But that's not all….5 lucky players will win their own set! To make it more fun, the spices won't be revealed until July 1st, when the winners are announced and we kick off July's party. So, enter the rafflecopter form below for your chance to win (and then cook along with me in July)!
And Finally we have…..FRIENDS!
This party is sponsored by my favorite online spice company: MySpiceSage.com! To learn more about this amazing company, go
HERE
to see my introductory post. Their product quality and prices just can't be beat!
Also, be sure to visit other projects that link up! Oh, and don't forget to leave comments…they really make people's day!
Okay, first things first….enter to win a set of July's featured spices.
Now, it's time to link up your grilling inspirations!