This is a Sponsored post written by me on behalf of Texas Pete for SocialSpark. All opinions are 100% mine.
The other day, my husband, youngest and I went out for lunch at a local restaurant and one of the daily specials was their buffalo chicken sandwich. When I asked the server to describe this sandwich my mouth couldn't stop watering when she said, "and the boneless breast of chicken is tossed in Texas Pete Wing Sauce." I thought I had died and gone to heaven.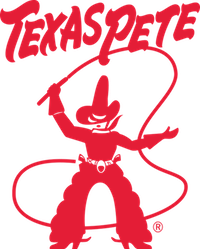 Texas Pete Hot Sauce is definitely a family favorite. However, did you know that they make other sauces as well? Some of these goodies include: wing sauces, hotter hot sauces, garlic hot sauce (a family favorite), CHA! by Texas Pete sriracha sauce and a green pepper sauce. These goodies add a spicy zip to so many everyday foods like hot dogs, soups, pizza, sandwiches: the perfect condiment.
Well, what would you think if I told you that Texas Pete Hot Sauce can also be a "secret" ingredient in recipes like ribs, barbecue, coleslaw and more. In fact, you can even incorporate it in your next batch of red velvet cones! You don't believe me, do you? Well, take a look!
Texas Pete® Red Velvet Cones
Serving size: 1 cake cone
5 cups All purpose flour

3 cups Granulated sugar

1 Tbsp Baking soda

2 tsp Salt, fine

2 tsp Cocoa powder

3 cups Vegetable oil

2 cups Buttermilk: room temperature

4 Large eggs: room temperature

3 Tbsp Red food coloring

2 Tbsp Texas Pete® Original Hot Sauce

2 tsp Vanilla Extract

48 Ice cream cones, small, flat bottomed

Cream Cheese Icing Ingredients:
36 oz. Cream cheese: softened, whipped

1 stick Unsalted butter: softened, whipped

2 cups Powdered sugar

1/2 tsp Vanilla extract

2 tsp Texas Pete® Hotter Hot Sauce

Other Supplies:
Piping bag with small decorative tip

Shaker, Powdered sugar, for garnish

Directions:
Preheat the oven to 350 degrees Fahrenheit.

In a large bowl, sift together the flour, sugar, baking soda, salt and cocoa powder. In another large bowl, whisk together the oil, buttermilk, eggs, food coloring, Texas Pete® Hot Sauce and vanilla.

Using a standing mixer, mix the dry ingredients into the wet ingredients until just combined and a smooth batter is formed.

Carefully spoon the batter into the ice cream cones filling them 2/3 of the way up to give them room for rising in the oven. Arrange the cones on a parchment-lined sheet tray standing up and place them into the oven to bake at 350 degrees for approximately 15-20 minutes or until they have fully risen and a tooth pick inserted into the center of the cake comes out clean.

Remove the cakes from the oven and let cool completely.

While the cakes are in the oven, prepare the spicy cream cheese frosting.

Place the softened cream cheese and the softened butter into a medium size mixing bowl and whisk together until smooth. Add the powdered sugar and continue to whisk until the mixture is smooth. Add the vanilla extract and the Texas Pete® Hotter Hot Sauce and whisk one more minute. You may add more powdered sugar or Texas Pete® Hotter Hot Sauce so that the icing is to your liking.

Place the spicy cream cheese frosting into a piping bag with a small decorative tip.

Using the tip of the piping bag, carefully puncture a small hole into the center of the top of the red velvet cake and pipe approximately 2-3 tablespoons of the spice cream cheese into the center of the cake allowing some of the cream cheese to come out of the top for decoration. Continue until all the red velvet cake cones are filled. Use any extra cream cheese icing to frost the tops of the cones.

Sprinkle with powdered sugar and serve.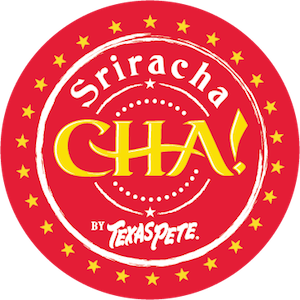 So what are you waiting for? I know you're inspired to pick up some Texas Pete Hot Sauce for your next family meal. What recipe will you try first? I think I'll try the cole slaw recipe next!