Happy First Day of Summer, everyone! It's sunny and hot here today…a real summer day here in Ohio. I'm also loving the fact that this is the longest day of the year, aren't you?
On June 1st, I kicked off a new seasonal spice party here at 4 You With Love, Party Thyme (learn more HERE and HERE). June is the first month of our 3-month summer season party and the theme is: Get Your Grill On with 4 featured spices (Aleppo Pepper, Black Peppercorns, Applewood Smoked Sea Salt, and Thyme). If you are a regular here at 4 You With Love, you know I have been posting some yummy grilling recipes and more. Well, I'm about to kick it up a notch.
At 12:01 am next Wednesday, June 26, the June Party Thyme link party opens along with a giveaway for July's featured spices. To get you all super pumped and inspired, I'll be posting a grilling recipe, tip, or other item at 10:00 am, 3:00 pm and 7:00 pm EST June 22-25. Yup, I'll be Getting My Grill on 12 times over the next 4 days. So, I'll be inspiring you and then June 26th you can inspire me!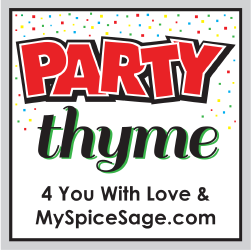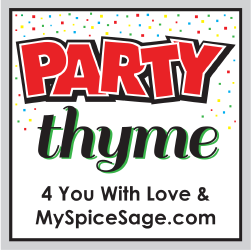 See you tomorrow at 10:00 am!