What were some of your favorite picture books where you were a kid? I must admit that I adored, "Yertle the Turtle" and my husband loved "Thidwick, the Big Hearted Moose", both by the amazing Dr. Seuss. Mr. Ted Geisel's (aka. Dr. Seuss) birthday is March 2. In honor of this wonderful writer, Craft Lightning is showcasing Dr. Seuss crafts.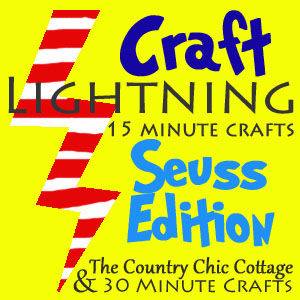 Now, if you're scratching your head and asking, "what's craft lightning", it's a bi-monthly series that runs for an entire week. There will be a theme (hence Dr. Seuss Crafts), and each day, 7 or 8 bloggers will be sharing a craft that you can complete in 15 minutes or less (minus drying time). Yup, TONS of craft ideas that you can complete in no time. I'm one of the bloggers today and I'm sharing a quick crocheted green egg you can whip up in 15 minutes or less. (I was inspired by this You Are My Sunshine Valentine from Repeat Crafter Me).
Are you ready to crochet your "green egg". Let's gather our supplies first!
Crocheted Green Eggs (& Ham) eos Lip Balm
Supplies:
Small amount of worsted weight white yarn (I used Vanna's Choice by Lion Brand)
Size g (4.0 mm) crochet hook
eos lip balm (honeysuckle)
"I do so like GREEN eggs and ham printable"..you can download it here
Abbreviations:
ch chain
ss slip stitch
sc single crochet
hdc half double crochet
dc double crochet
Directions:
Round 1: Ch 22 & ss to join to form a ring

Test your ring by sliding it onto your eos lip balm. It should be tight. If it doesn't fit, adjust the amount of ch stitches for your personal crocheting gauge. (See photo below, far left)

Round 2:Ch 3 (does not count as first stitch), 34 dc into the ring, ss to join.

Test once again by sliding onto your eos lip balm. (See middle photo below)

Round 3: Now this round is a free form round. In other words, a fried egg isn't perfectly round so a wavy, uneven edge is the look you are going for. You will start off by ch3 and doing 2 dc into the first dc. Then you will do 2 stitches into every dc from the previous round (ending with 64 stitches). You can adapt as you like. Once you complete your round, ss to join I did 2 of the same stitch in each dc. So here's how I decided to work my round.

6 dc, 4 hdc, 6 sc, 2 hdc, 12 dc, 6 hdc, 10 sc, 6 hdc, 4 dc, 4 hdc, 4 dc, ss to join.
REMEMBER, you can modify round 3 how you'd like….just have fun! Also, if you end up with with say 62 or 65 stitches, don't sweat it.

Weave in ends and slip onto your lip balm so one last time (photo far right)
Now just cut out the free printable label and tape it onto your lip balm! What do you think? Do you like green egg(s and ham)?
If you are looking for more amazing Dr. Seuss crafts you can complete with lightning speed, just click on the button below! Happy Crafting!