What time is it here at 4 You With Love? It's……..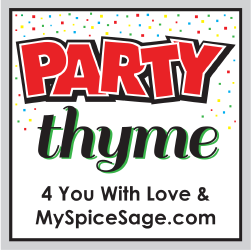 The Monthly Spice Party here at 4 You With Love! Here's what's in store for July.
Spices 101. Every Sunday, one of July's 4 featured spices will be showcased.
Throughout July, I will be sharing recipes that showcase either one of the 4 featured spices OR July's Monthly theme.
June 26 a spice giveaway will be opened for five lucky winners to win a set of August's featured spices.
June 26, a recipe link party will be opened for each of you to link up your recipes that show case July's theme or July's featured spices
And MORE!
Are you ready to learn what July's theme is? It's…..
I'll be sharing recipes and ideas so that we can "beat the heat" this July. You'll find recipes for ice cream, salads, grilling ideas and more. How do you beat the heat?
Now, here's July's featured spices.
Lavender
Onion Powder
Dill Weed
Tarragon
Here are our Lucky winners of July's featured spices!
Diane Pytel Sikora
Lauren Lanker
Emily Merritt Morgenstern
Lori Hart
Cyndi Valerino
So, let's get ready to "Beat the Heat" with Party Thyme! If you didn't win a set of July's spices but would like to get a set, stop by my favorite online spice store and sponsor of Party Thyme,
My Spice Sage
.