St. Patrick's Day is just a week away! Yes, leprechauns, shamrocks, rainbows and that elusive pot of gold. Well, that pot of gold isn't elusive this year! Nope! Fourteen bloggers and myself truly "Love That Gold" and have joined together to share 15 "golden" projects and host a $300 Paypal Cash Giveaway! How's that for a Pot of Gold?
I recently discovered Krylon's silver & gold leaf pens and they work GREAT on glass. However, I was reading the packaging the other day and discovered that you could use them on fabric! Yes, you heard me correctly, fabric! Well, I just had to try this out. So, I decided to make a quick and easy key fob and embellish it with these awesome pens.
Silver & Gold Key Fob
This is a super easy project that you can complete in 15 minutes or less! Here's the supplies that you will need.
D Ring
Split Key Ring
Canvas cut to slightly narrower than your D-Ring and twice the length of your desired length for your finished fob
Phoomph cut the same width as your canvas and slightly shorter than the desired length of your finished fob
Krylon leafing pens in gold & silver
Here's how!
Now to give my fob a more finished look, I decided to draw a gold "frame" around the edges. See, easy peasy!
Now, I'm so excited to show you this amazing "Love That Gold" roundup of 15 wonderful projects (these ladies are TALENTED!)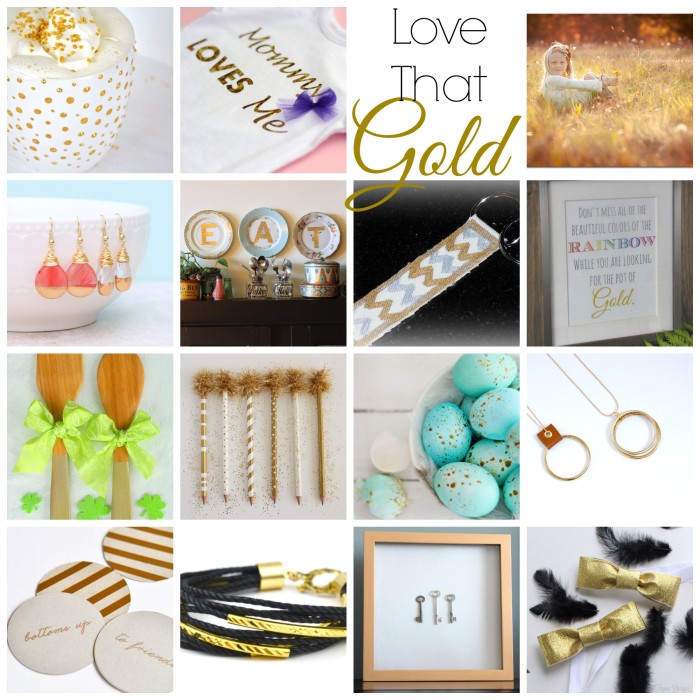 Check out these golden" inspirations, from left to right, they are:
Are you as inspired as I am? See, these ladies are wickedly talented! Now, don't forget to enter for your chance to win $300 Paypal Cash! GOOD LUCK!