This is a Sponsored post written by me on behalf of Gro-ables for SocialSpark. All opinions are 100% mine
.
It's supposed to get up to 42 degrees F here today and up to 51 tomorrow! I can't tell you just how excited I am about this. Winter has been so harsh this year that I am definitely dreaming about warm, sunny, spring days. In fact, I am so ready for spring that I have begun compiling a "spring to do list" as soon as the weather breaks. Are you dreaming of spring as well?
One of my to-do list is planning my vegetable and herb garden. I have friends who grow luscious gardens from seed but my black thumb kills the seeds before they even get out of the ground. I'm serious. I can't tell you how many times I've put pea seeds out (on St. Patrick's Day) and only 2 scrawny plants will emerge (from planting 20+ seeds) and they NEVER produce!
Well, this year will be different! "Why?" you ask? Miracle-Grow has a new product: Gro-ables! Gro-ables are seed pods that contain fertilizer, growing materials and the seed. Everything you need for plants that thrive and all you have to do is pop it in the soil, add some water and watch it grow! Want to see one? Check out this Basil Gro-ables.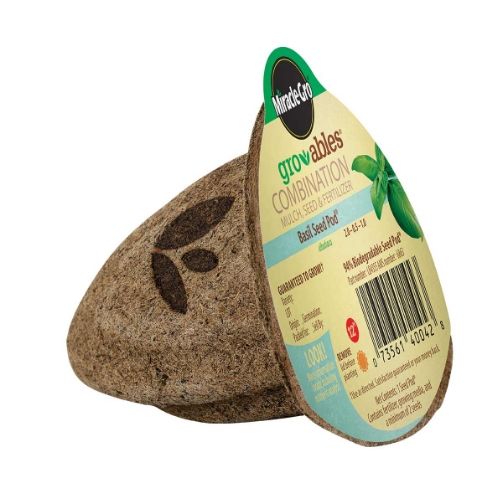 There are 17 varieties of Gro-able that include fruits, vegetables, and herbs! I can't wait to try the dill, basil, cilantro, globe tomato and bush bean seed pods. After learning about this new product, I can already feel my "starting from seed" thumb turning green. Would you like to learn more about this amazing product? Check out this video.
Okay, are you psyched like I am? I'm going to try the Spinach, Globe Tomato and Basil Gro-ables. Why? because I have recipe that's been on my "to make" list for quite a while: White Pizza with Spinach, Garlic, Basil and Tomato. I think this recipe will be amazing made with items fresh picked from my garden, don't you?
Which Gro-ables would you like to try? Click on Gro-ables and check out all the pods that are available. I'd love for you to comment on which products you'd like to try and which recipe you'll be creating to showcase your garden edibles.