Okay, I can't tell you how excited I am today. I'm like a little kid with a secret, ready to burst at the seams! So what has me so psyched? It's our monthly spice party that is sponsored by my all time favorite spice company, MySpiceSage.com…..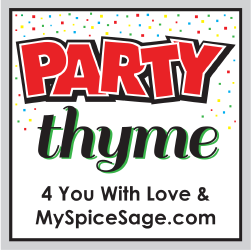 I know, I know, we've had this party the past couple of months but this month is super special. Why? Well, Party Thyme is broken into 4 seasons (Summer Thyme, Autumn Thyme, Winter Thyme, and Spring Thyme). Then, each season is broken into 3 monthly parties. So August's party is a double party.
This Month we will have
5 lucky winners will receive a set of September's featured spices
5 lucky winners will receive a set of Summer Thyme's featured spices…YES, a set of 12 different spices!
Wow, you could be the winner of a spice cabinet full of amazing spices! Okay, so we've talked about the prizes, let's get onto the party, shall we? Here's your checklist (and I've already given your an "A+" 'cause I know you're just as excited as I am!).
So, first off, let's enter the giveaway (I'm sorry but this giveaway is opened only to US residents ages 18 or older)
Now, it's not a party if we don't make friends and mingle so here's a link up so you can share your recipes for ways you "Preserve the Summer"