Okay, everyone, what time is it? It's……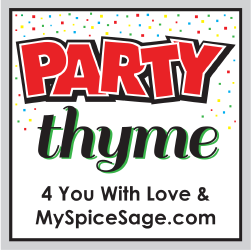 And every party needs 3 things:
First things first……FOOD!
I've been trying to "Beat the Heat" by making some amazing food using July's Featured spices: onion powder, tarragon, dill weed, and lavender. Here's some of the food I've brought to the party.
Now this party is "Pot Luck" so at the bottom of the post there is a link up for you to inspire me (and everyone else) with your "Beat the Heat" recipes or recipes that use one of July's featured spices: onion powder, lavender, dill weed, and tarragon. Oh, and I'll still be posting more inspirations from now until the end of July!
Next, we have……FUN and GAMES!
We're going to have some fun with a rafflecopter giveaway for a set of August's four featured spices.
Five lucky players will win their own set! To make it more fun, the spices won't be revealed until August 1st when the winners are announced and we kick off August's party. Oh, and that's not all. One lucky winner will win a Bella Ice Cream Maker.
So, enter the rafflecopter form below for your chance to win (and then cook along with me in August)!
And Finally we have…..FRIENDS!
This party is sponsored by my favorite online spice company: MySpiceSage.com! To learn more about this amazing company, go
HERE
to see my introductory post. Their product quality and prices just can't be beat!
Also, be sure to visit other projects that link up! Oh, and don't forget to leave comments…they really make people's day!
Okay, first things first….enter to win a set of August's featured spices or the Bella Ice Cream Maker.
(This giveaway is only opened to US residents or Canadian friends who have a US mailing address).
Okay, now let's see how you "Beat the Heat"
{Click here to read more}