Ladies, I have a fun idea for everyone! My friend, Amy of One Artsy Mama, is currently holding her annual One Crafty Contest.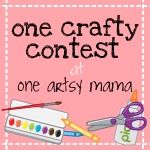 Last week was the week to submit your entries with the voting to determine the 20 contestants being held last weekend! I tossed my glittery hat into the ring but, alas, I am not one of the 20 contestants.
Well, the way Amy runs her contest, she has a mystery crafting material that she will reveal each week that the contestants are challenged to create with. Then, the contestants masterpieces are showcased and we vote to determine who makes it to the next round!
Round one's crafting material is "Paint". I thought we could play along with the contestants. Let's all create something with paint and then Monday, I will write a post sharing what I created (with tutorial, of course). I will share my post on 4 You With Love's Facebook page as well and everyone can link up their masterpieces too! We can all visit each other and become inspired! Sound like fun?
Oh, and don't forget to stop by One Artsy Mama on Sunday (5/19) to vote for your favorites and help determine who makes it to Round 2!
Time to get out the paint!
4 You